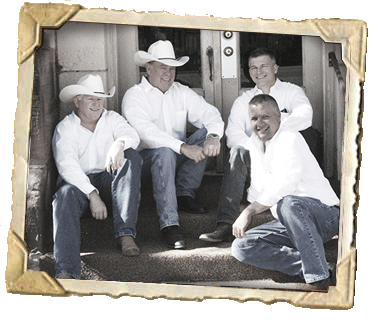 Southbound Mule plays an non-eclectic mix of old favorites and new standards - everything from Bill Monroe (and earlier) to Vince Gill. They are known far and wide for their hard-driving style, high-energy vocals and tight harmonies. And don't let the tin-type fool you - they clean up good, too.
Southbound Mule - Oklahoma's favorite Bluegrass band - is heading into their summer schedule. There are still a few slots left open, so if you're wanting the Mule to energize yourevent, best be calling us now at 405-306-3062!
Get yer dibs in early to have us play! Want to see where we'll be? Check the calendar.

We have succumbed to the allure of the Dark Side, so 'like' us on our new Facebook page!
If you need a hi-res image of us for your program, then click here.

I've worked up a short highlights reel as a promo video for Southbound Mule. Take a look!
Here's a song from last year's Tallgrass Bluegrass Festival. Sound quality is kinda iffy, but you'll get the idea. We shared the billing with Russell Moore & IIIrd Tyme Out, The Farmhands, and Wood & Wire - we were in good company that day.
I love making the front page of the newspapers, this one from Wichita Falls. Verlon joined us for this one.Ya'll pray for Verlon. He's got some serious health problems right now.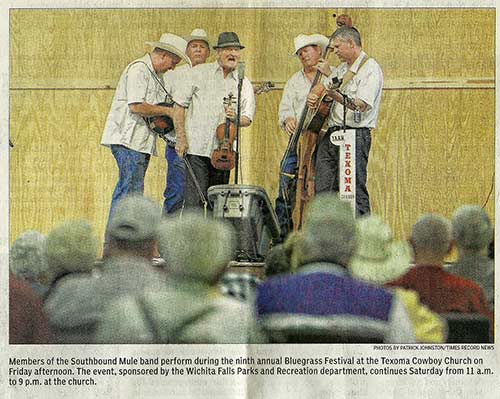 I've put up about 20 videos from a festival in Shawnee a few years back. Here's a playlist below, or you can visit our YouTube channel to all of them HERE >>>

Go to this page for more videos. Stay tuned!
I've just put up a whole bunch of videos from the GOBMS Gospel show this summer. Take a look at our Youtube channel, and ignore the ones where I set stuff on fire. Unless you're into that.
If you would like Southbound Mule to perform for your event, bar mitzvah, hoedown or hootenanny, just send us an email at southboundmule@gmail.com or call me at 405-306-3062. Our fees are pretty reasonable. There may be an extra charge for us to bring our own PA system.
We also have a listing on iBluegrass.com!
This site sponsored by RDR Technologies, makers of BanFire , the amazing "green" fire retardant with no VOCs or toxins, works on stage sets, holiday decorations, wood, paper and fabric. Great for schools, hospitals, restaurants and new construction.

Also by Ridge Instruments, Darrel Carender, Luthier - maker of the finest guitars, banjos, mandolins, dobros - even electric guitars and basses. Based in Pawnee, OK, birthplace of Chester Gould and home to Pawnee Bill.